>

Outdoor Solutions
Online Resource Center

| | |
| --- | --- |
| | Give your customers convenient financing options for budget flexibility |
With our experience and stability, the Wells Fargo Outdoor Solutions credit card program can play a strategic role in your business growth. Offering this program allows you to provide flexible financing options for your customers' outdoor projects .
Learn how the Wells Fargo Outdoor Solutions consumer finance program could help your outdoor home improvement business and your customers.
Business Benefits Selected
By adding the easy-to-use Wells Fargo Outdoor Solutions credit card program to your sales resources, your business can benefit from these program features.

Tools to offer financing
Competitive special terms promotions
Full access to the Online Resource Center for application, transaction, reporting, and training needs
Marketing support to increase sales and purchasing power
Fast deposit of funds (typically within 48 hours)
Strong credit limits

Exceptional service and support
Quick program implementation
Comprehensive training options
Wells Fargo Outdoor Solutions relationship support for your program
Rapid, secure processing methods
Simple electronic application process

Attract new customers and develop long-term customers
Turn potential customers into purchasers by offering flexible financing options
Eliminate purchase delays and increase customer purchasing power with convenient financing options
Offer purchasing convenience at your company and everywhere Visa is accepted
Business Benefits Selected
When it comes to your outdoor projects, financing may turn many of your potential customers from planners to purchasers. In fact, some of your customers may even upgrade their project ideas knowing financing is available with the credit card.

Convenience
Simple, fast in-home or in-store application and credit decisions
Immediate access to revolving credit line upon approval
Power to make purchase decisions today instead of delaying projects
Easy-to-use online account management and bill payment options
Everyday purchasing convenience everywhere Visa is accepted

Money-managing features
Convenient monthly payments
Opportunity to pay for their projects over time
Competitive interest rates

Stability and service
Stable, reliable financial services company
Superior cardholder service
The Wells Fargo Outdoor Solutions credit card program is designed for business owners within these popular markets.
Lawn & Landscaping

Pavers
Retaining walls
Shrubs, trees, greenery
Irrigation systems
Water features

Above-ground pools
Spas
Fencing
Barbecue grills and accessories
Gazebos
Hearth products
Patio
Play systems
Sheds
Contact us if you do business in one of these markets and would like more information about the Wells Fargo Outdoor Solutions credit card program.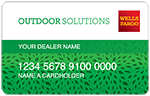 Not a business?
Cardholders call
1-877-805-7744
Mon–Fri: 8:00 am - 6:00 pm
Central Time
Increase business with:
Greater customer purchasing power
Special terms promotions
Unique marketing opportunities
Consistent credit approvals
Competitive credit limits
Questions?
Businesses Call
1-800-577-5191
Mon–Fri: 7:30 am - 5:30 pm
Central Time