>

Appliance/Electronics

>

Home Furnishings

>

Recreation
Online Resource Center

| | |
| --- | --- |
| | Consumer financing designed for your home furnishings business |
With consumer financing from Wells Fargo – a trusted, stable brand with decades of industry experience – the Wells Fargo Home Furnishings credit card program is designed to position home furnishings businesses for growth today and in the years to come. The program's credit card gives approved customers the buying power to shop with you today and pay over time with a revolving line of credit that keeps them coming back to your store.
Are you ready to learn how the Wells Fargo Home Furnishings credit card program could help you and your customers? Sign up or contact us today!
Business Benefits Selected

Quick responses and quick decisions
On-the-spot credit decisions
Consistent credit approvals with competitive credit limits
Fast deposit of funds (typically within 48 hours)
Prompt Wells Fargo program support to your inquiries

Exceptional service and support
Quick program implementation
Comprehensive training options
Relationship representative support for your program
Rapid, secure processing methods
Simple, electronic application process

Tools to grow your business
Competitive special terms promotions and increased customer purchasing power
Full access to the Online Resource Center for application, transaction, reporting, and training needs
Credit cards embossed with your business name
Marketing support to help increase sales
Customer Benefits Selected

Convenience
Fast and simple application process
Quick credit decisions
Immediate access to revolving line of credit upon approval
Ability to make repeat purchases of products and services at your location
Easy-to-use online account management and bill payment options

Money-managing features
Convenient monthly credit card payments
Opportunity to pay for their merchandise over time

Stability and service
Stable, reliable financial services company
Superior customer service
Eligible cardholders receive free access to their FICO® Credit Score using Wells Fargo Mobile® Banking, factors that affected it, and personalized Wells Fargo credit tips*
We're eager to show you why the Wells Fargo Home Furnishings credit card is an excellent choice for you and your customers. There's no fee to enroll – enroll today or contact us for more information.
---
You must be a Wells Fargo Online® customer with an eligible Wells Fargo account and a FICO® Score available. Eligible accounts include Wells Fargo: deposit, investment, retirement, loan, and credit products. Business and commercial accounts aren't eligible.
FICO is a registered trademark of Fair Isaac Corporation in the United States and other countries.
Your mobile carrier's rates may apply.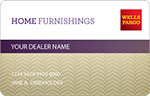 Not a business?
Cardholders call
1-877-805-7744
Mon–Fri: 8:00 am - 6:00 pm
Central Time
Increase business with:
Greater customer purchasing power
Special terms promotions
Unique marketing opportunities
Consistent credit approvals
Competitive credit limits
Questions?
Businesses call
1-800-577-5191
Mon–Fri: 7:30 am - 5:30 pm
Central Time