Wells Fargo Bank, N.A. Cardholders
Reading Your Statement
Your statement provides account balance and transaction details, including how long a balance will take to pay off and how much it costs if you pay only the minimum due.
A guide to reading your statement and understanding key credit terms: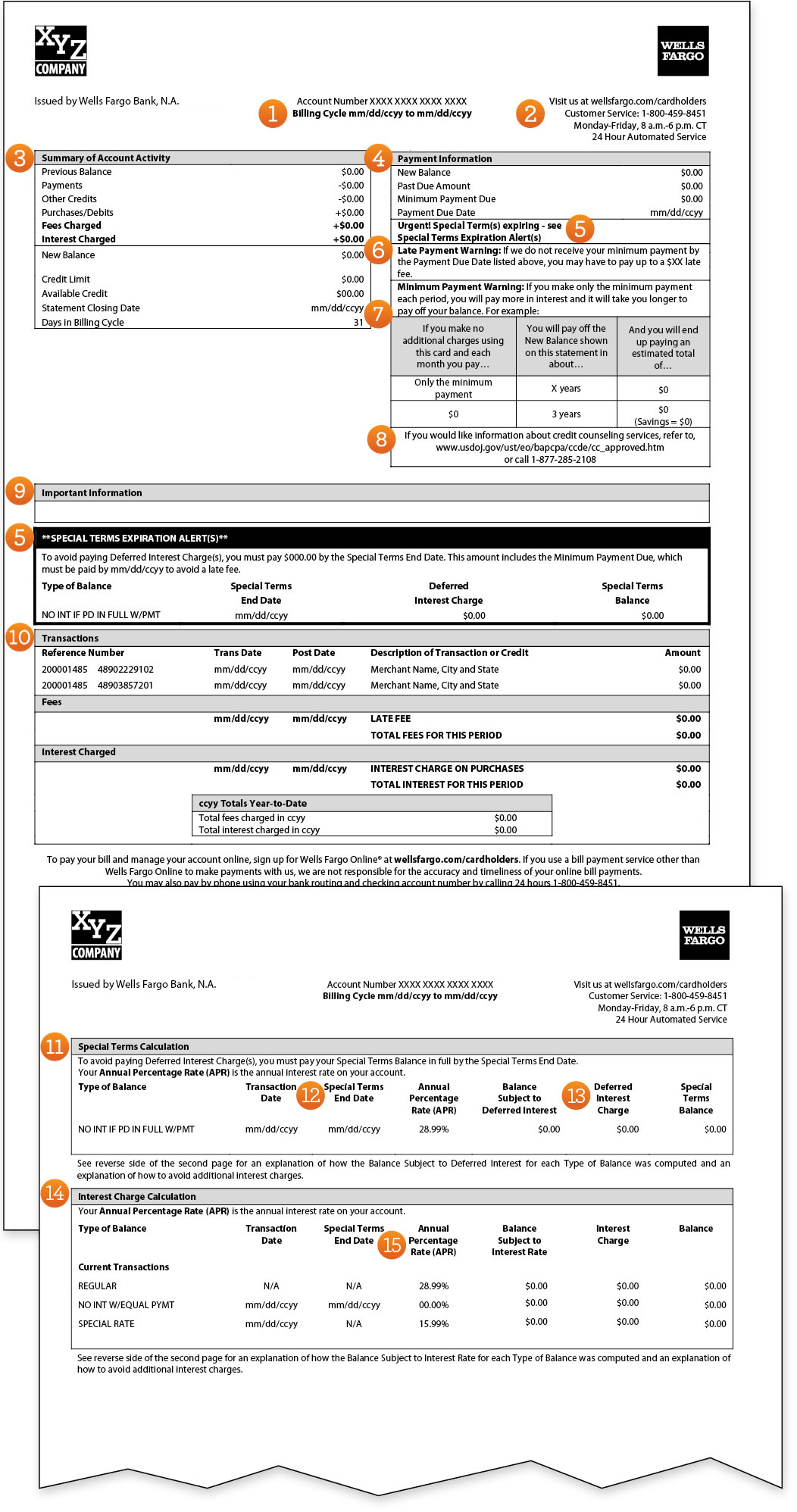 Account Overview
Includes general account information and the dates your bill covers.
Need Help
We're available to answer your call Monday - Friday, 8:00 am - 6:00 pm, Central Time, or you can get answers on our website 24/7. If you prefer to write, there is a mailing address on the back of the statement.
Summary of Account Activity
Quickly review all of your account activity during the billing cycle, including any payments, purchases, interest or fees, and total balance due.
Payment Information
Review your new balance, minimum payment due this month, and your payment due date.
Special Term(s) Expiring
One or more No Interest if Paid in Full balance(s) is about to expire.
Late Payment Warning
This area explains what may happen if you don't pay on time.
Minimum Payment Warning
Shows how long it will take to pay off your balance if you make only the minimum payment due each month.
Credit Counseling
Contact information for credit counseling services.
Important Information
Alerts, changes to your account, or informational messages are printed here.
Transaction Summary
Review your purchases, other transaction activity, and payments listed in order of transaction date. You'll also review totals for fees and interest charged this billing cycle and year-to-date.
Special Terms Calculation
A message to remind you of your special terms promotion(s) that expire and details including balance(s) subject to deferred interest. If you do not pay off expiring No Interest if Paid in Full balance(s) in full by the Special Terms End Date(s), deferred interest will be charged from the purchase date(s) and added to your balance.
Special Terms End Date
The date that your special terms promotion ends.
Deferred Interest Charge
The amount of interest that has accrued for No Interest if Paid in Full balances from the original purchase date to this billing cycle.
Interest Charge Calculation
Your balance(s) by type (i.e., regular, special rate, etc.) with corresponding balance and interest charge for each this billing period.
Annual Percentage Rate
The annual percentage rate used to calculate the Interest Charge for each type of balance.
Existing Wells Fargo customers can sign on to Wells Fargo Online® to review electronic copies of your statement.
Not yet enrolled in Wells Fargo Online? Sign up now >